The following pictures show the building approved in the meeting with the Forest Service. This process is not complete however. A application still has to be submitted for final approval. The aplication was recieved by the President Mike Tesky KC7CCK on May 5 and will be filled out a submitted shortly.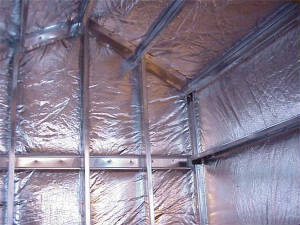 These buildings are fabricated in the LaGrande area and the builder can deliver it to our site and set it on our proposed foundataion. Verbal approvel to use leveled and stabilized railroad ties was given in the meeting.
These building are not your back yard tin shed, they are commercial grade buildings with a 20 year baked on finish. The door is reinforced for security. The roof is specified to carry heavy snow loads. As a minium the roof is insulated to prevent condensation. The general feeling is we'll have the whole building insulated.
The flooring is 3/4 inch presure treated plywood that will support a vehicle.
It would be expected that this building would serve the needs of the SSRA for the forseable future certainly 20 to 30 years. The exact size is not determined at this point but 8 x 8 ft or 8 x 10 ft would be the two options we can best afford.